Search Results
This brief video, Overview of Indicator 7, from the California Department of Education, Special Education Division, introduces the Office of Special Education Program's (OSEP) child outcomes indicators and the state and local reports of results available through DR Access Outcomes.
DR Access Outcomes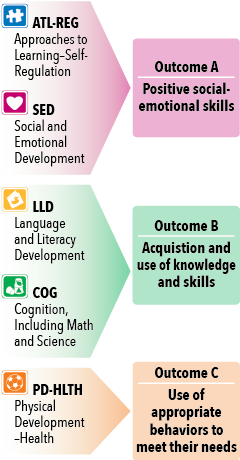 Here you can find your results for "Indicator 7: Child Outcomes". States are required to report annually on child outcomes for all 3, 4, and 5-year-old children with Individualized Education Programs (IEPs) to the Office of Special Education Programs (OSEP) as part of their State Performance Plans.
The Indicator 7 child outcomes are:
Outcome A: Positive social-emotional skills (including social relationships);
Outcome B: Acquisition and use of knowledge and skills (including early language/communication and early literacy); and
Outcome C: Use of appropriate behaviors to meet their needs.
The data for the California child outcomes report comes from the Desired Results Developmental Profile (DRDP), California's early childhood statewide assessment. The DRDP is an observation-based assessment for children birth to five comprised of important areas of learning and development. The figure to the right shows how the DRDP developmental domains aligns to the child outcomes.
On this website, child outcomes results are displayed for children that exited early childhood special education services within the year you specify and include only children with complete DRDP ratings for their entry assessment into early childhood special education and their exit assessment from early childhood special education.